GeoCommons: Collaborative Learning Space @ MAGIC
With the 2009 Horizon Report, co-authored by EDUCAUSE ELI and New Media Consortium, highlighting the upcoming trend for technology becoming "Geo-everything" the Map and Geographic Information Center (MAGIC) has developed a plan to transform the Map Reading Room into a collaborative space. This new collaborative space, will be an expansion of the Learning Commons within the Homer Babbidge Library concept but with a geographic and maps twist. This space, known as the GeoCommons, is designed to enable our users to generate mashups of maps, video, and audio for use within their research, presentations, and other academic works.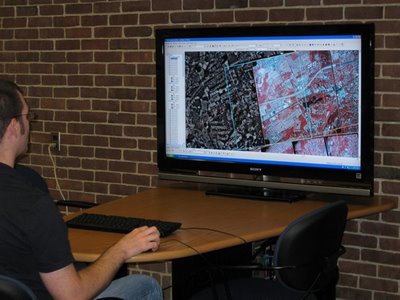 With an increasing number of materials within the Map and Geographic Information Center's (MAGIC) collection becoming available in digital format, the possibilities for utilizing geospatial resources for professional and personal research have increased dramatically. With every new digitized item, the range of possible uses increasing as researchers begin to create customized mashups of data provided by MAGIC with personal datasets. It is now conceivable for researchers and students alike to research topics and problems from new perspectives by challenging past assumptions and analysis with the ever increasing number of geospatial data sets thus enabling MAGIC to support original research in ways not conceivable just a few years prior. With the transition from print to digital continuing to thrive and accelerate MAGIC wishes to develop resources and services that enhance and support research for the 21st century. To improve access to our users we are proposing some cutting-edge applications for geospatial data access which will strategically place MAGIC as one of the premier geospatial data providers in the country. Outlined below are three phases of development that will enable us to increase access to geospatial data and provide resources which balance content with educational opportunities.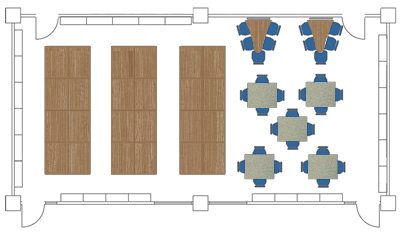 The GeoCommons builds upon the commitment outlined within the University of Connecticut's Academic Plan to provide increasing opportunities for interdisciplinary research as maps are becoming increasing valuable to explore anthropologic, cultural, economic, environmental , health, and historic concepts to name a few potential applications. In the coming months the first collaborative research workstation will be added to the Map Reading Room and will feature a 46" screen, a collaborative table, web editing, video editing, and audio editing software along with Google Earth and other geographic applications.
For a complete listing of long-term goals for developing the GeoCommons on level 4 of the Homer Babbidge Library review the Draft of the GeoCommons Development Plan.

Back to top
GeoCommons Workshops
The University of Connecticut Libraries Map and Geographic Information Center - MAGIC, offers a series of workshops which explore concepts related to the creation, integration, and display of maps and geographic data. These workshops are free and open to UConn Students, Faculty, Staff, and the general public. Registration is required for these workshops and a link is included within each workshop description to register. Below are the upcoming GeoCommons Workshops.
Back to top
Software in the GeoCommons
Back to top
Giving to MAGIC
If you are interested in contributing funds towards the development of this interactive learning environment please visit the University of Connecticut's Giving to the Libraries page.
Back to top